Nephelios is the first solar powered blimp on earth to journey across the English Channel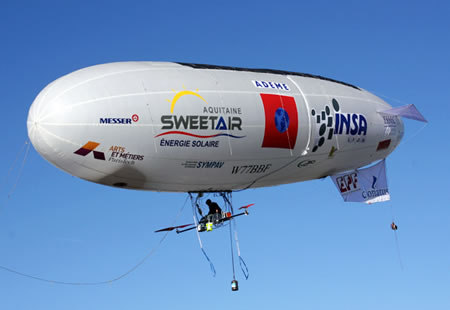 We've heard of solar powered planes like the Sun Seeker II and the Solar Impulse doing the test runs before. Well, here's a new way to take to the skies, on a solar powered air trip, the Nephelios. This blimp will be the world's first to be propelled completely by solar power, on a trip across the English Channel. Built by Project Sol'r, collaboration between students at engineering and technical schools in France, this blimp first popped up about a year ago. The helium filled balloon will float across the skies on its debut run next week.

Measuring 72 feet long and 18 feet wide, the Nephelios has nylon and polyethylene aluminum frame with semi-flexible solar cells capable of generating up to 2.4 kilowatts. That could keep the blimp floating around at a sweet 25mph. a motor powered by the cells using energy from the sun turns two propellers. The blimp hopes to complete its journey in an hour's time. Here's wishing good luck to the Nephelios on this epic quest!


[Inhabitat]